Retailer Application - Drop Bears
Drop Bears – Retailer pledge deposit
Return to Drop Bears - Kickstarter campaign 
You are here because you wish to back the Retailer Pledge Deposit reward of the Drop Bears Kickstarter.
Our desire to include shops and distributors in our campaign permits them to keep their usual discounts.
Shops that do not participate in the Kickstarter campaign cannot order the TIWANAKU Kickstarter-Exclusive Deluxe Edition at a later date.
Before selecting the RETAILER PLEDGE, please make sure to read the following important information…
"Brick-and-Mortar" Shops Only!
The Retailer Pledge is only avaliable to retailers of physical ("brick-and-mortar") shops. Online retailers are not eligible.

To take advantage of this discount, you will be asked by registering on our website to prove that you are ordering to stock a physical shop. If you cannot prove it, your order will be canceled, and you will not be reimbursed.

Register here
Pledging for the "Retailer Pledge" is a deposit that gives you access to the post kickstarter Pledge Manager. You will get the reduced retailer price (−50%). 
Complete order during Pledge Manager.
The Retailer Pledge Deposit reward amount includes a down payment of $100AUD ($70US±); you will pay the remaining via the Pledge Manager once it is online payments will be taken up until the freight is loaded.
You cannot pledge for less than 1 case (6 copies).
You could also choose in the Pledge Manager to add additional copies of Drop Bears at case quantity 1 case (6 per case) of Drop Bears. 
Expansions must also be purcahsed in Case qty (details TBA)

Important: Purchase 2 or more cases of the Drop Bears core set, and you will receive a single free copy of Drop Bears (12+1)!
Are Retailers treated as backers?
Yes! All Drop Bears games, expansions and additional products will be eligible to receive all stretch goals, bonuses and promos listed in the kickstarter. 
All in pledges - are retailers eligible ?
Sales tax/VAT is neither included in the pricing mentioned on this page, nor in the Kickstarter Retailer Pledge Deposit reward.
Your order will be shipped through one of the logistics hubs that we selected.
Your order will be shipped to the address of your store.
You will pay these shipping costs via the Pledge Manager. Shipping costs will be collected after the campaign according to your geographical location.
In countries where we have a distribution partner (see "Free Shipping?" below), customs taxes will have been paid by ourselves before the goods arrive at our distributor/shipping hub.

Therefore, you will not have to pay them again when the goods are delivered to you.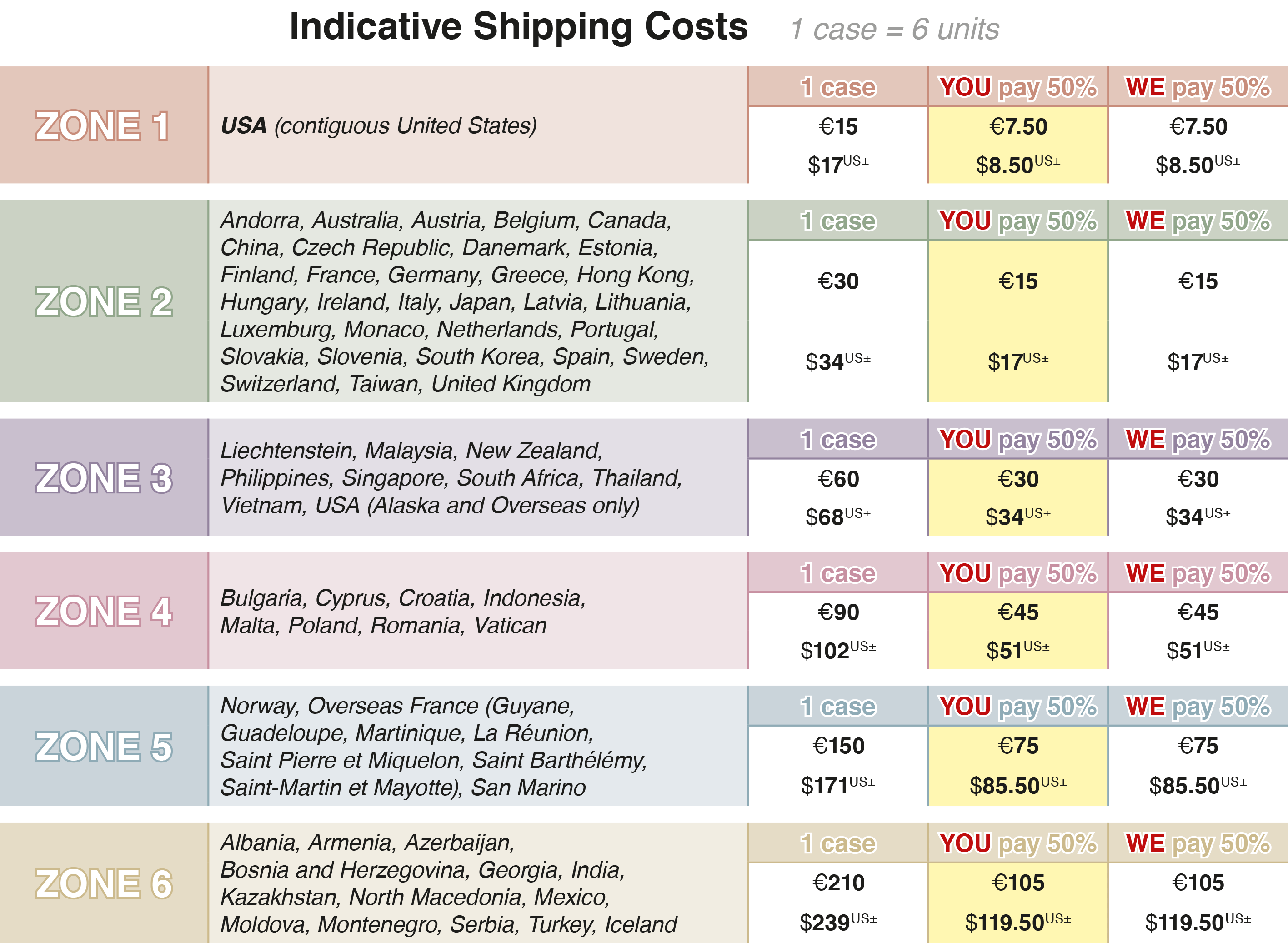 Each case will be shipped separately but to the address of your store.
We do not ship to any countries that are not listed here above in these six zones. Sorry!
If your package gets lost by the fulfillment company, or is returned to us for some unforeseen reason, we will attempt to send it again at our expense. However, if the delivery failure is due to an error on your part, then the shipping costs will be entirely at your expense.
Please note that these reshipments, as well as shipments delayed because you did not fill out the Pledge Manager in time, will be processed after the entire fulfillment process is complete
Important: Shipments to the European Union, USA, Canada, United Kingdom, Australia, and China benefit from "Shipping Friendly" service, which is to say that backers in these countries do not have to pay import taxes!
We will do our best in order to arrange the delivery dates so that all backers (shops included) will receive their order mostly at the same time.
A clear and complete PDF invoice will be sent to you right after the Pledge Manager has been closed. Do not forget that if your order is shipped by a distributor, if the shipment is not free, the distributor will also send you an invoice for only shipping (see both sections just above).
Later Availability of the Deluxe Edition via Sit Down!
The Kickstarter-Exclusive Deluxe Edition will be available via Sit Down! website and conventions we attend. Only a few hundred additional copies will be produced for that purpose. We will match the MSRP (€65), with no possible discount during at least the first year.
The TIWANAKU Retail Edition (MSRP: €50) will be available for all after the Deluxe edition will have been received by most of backers (shops included), creating an exclusivity window that should help stores to build demand.
Check here the differences between the Retail and the Deluxe editions.
Release date of the Retail Edition is November 1st, 2022, which will be updated to a later date in case of production/shipments delays.
Complete your registration